CiftPMS-Payroll Management System
CiftPMS, is a payroll management system designed to specifically target enterprises. It has all the features of payroll process that a typical HR/accounts department of a small/medium/large sized company follows. All the processes are categorized, giving a simple interface to end user.
CiftPMS software is supported by our strong support system, servicing our customers across India for over a decade.

CiftPMS-Features
Salient Features
• Employee profile.
• Leave Management.
• Time management.
• Employee transfer, promotions & Increments.
• HRD Procedures.
• Income Tax Management (TDS).
• Reports (E.S.I.C and Provident fund statements and challans.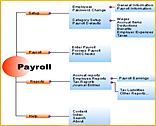 CiftPMS-Technology Used

Client and server based system.

Based on Microsoft Windows Technology.
CiftPMS-Licensing Model

Single user system.

Multi user system.